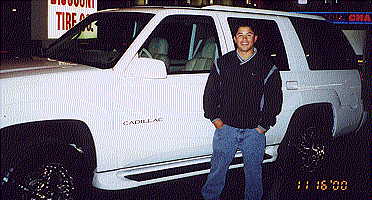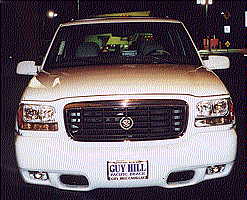 Here's a guy who wants all the best. Start with a Cadillac, add DVD, a VCP, 12 Disc changer, in Dash, and rear Monitors, Gaming connections, and power supply, 3-12" woofers in a box carpeted to match the interior, and enough power to really get the sounds pumping!!!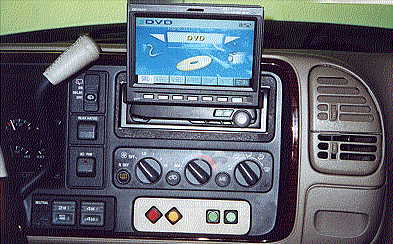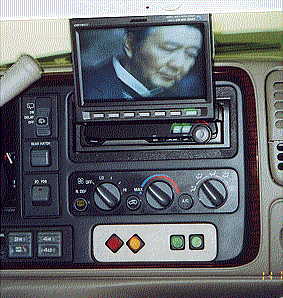 The GM Dash always worries me, but the motorized monitors always seem to clear that shifter!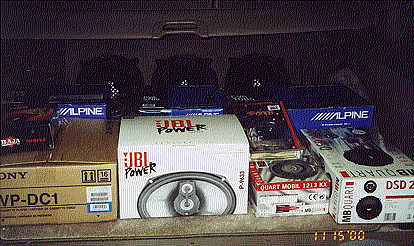 This picture shows all the equipment we used except the two amps. For power we had a PPI PC2100 amp, pushing 3 JL 12W0-12 woofers, and a Punch 800A4 to drive the highs. We kept the panels looking stock, and put MB Quart separates in the front doors, with 5 1/4" coaxials in the rear doors, and JBL power series 6x9s in the overhead location. That's the woofer box hiding behind the equipment.


The headrest cuts were complicated by the mechanism for the tilting headrest function, but we kept our cool, and got a good look there.


Here's a close-up of  the VCP, and the gaming connections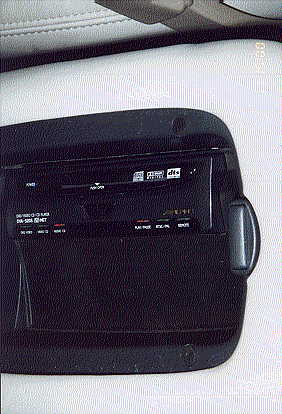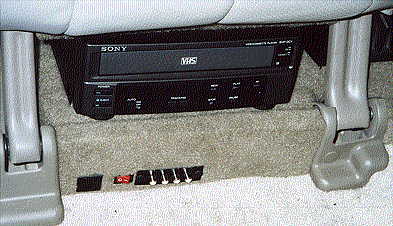 We had originally planned to cover the sides for total concealment, but the mounting bases were such a nice fit, we left it alone. That's the Video game connections below. Power plug with switch, and A/V inputs. The invertor is under the VCP's mounting base.


Here's the look from the front. The mounting bases were used to conceal the wiring, and give a finished look when the seat was open.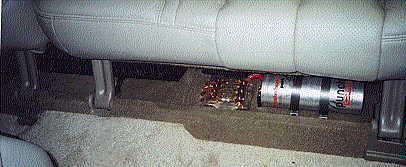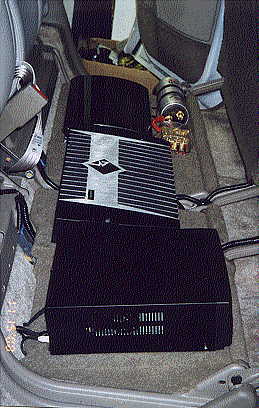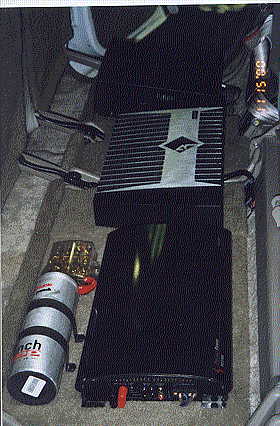 These pictures show what we were trying for with the seat open. By fitting mounting bases to the spaces available under the seat, we got a clean appearance, while hiding all the added wiring.

It's kinda funny how the only wires that don't disappear immediately are the stock ones!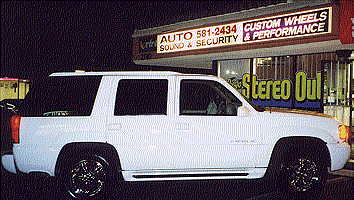 I couldn't forget to show the custom 20" wheels we put on her as well.

For those who looked really closely at the equipment photo, and wondered about the little Baja amp?..Well, this car has the GM "Onstar" system, and we needed to retain the audio portion of the Onstar system, so a small amp was used with a hidden "hands free" speaker for phone use, so the driver can hear the Onstar voice commands...and communicate with the center while driving.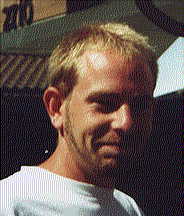 Here's the one to blame for any mistakes... I only take credit for the successes. Take a bow Travis!.

Sure DVD player in the console isn't new, but expert execution always makes the effort worth while.